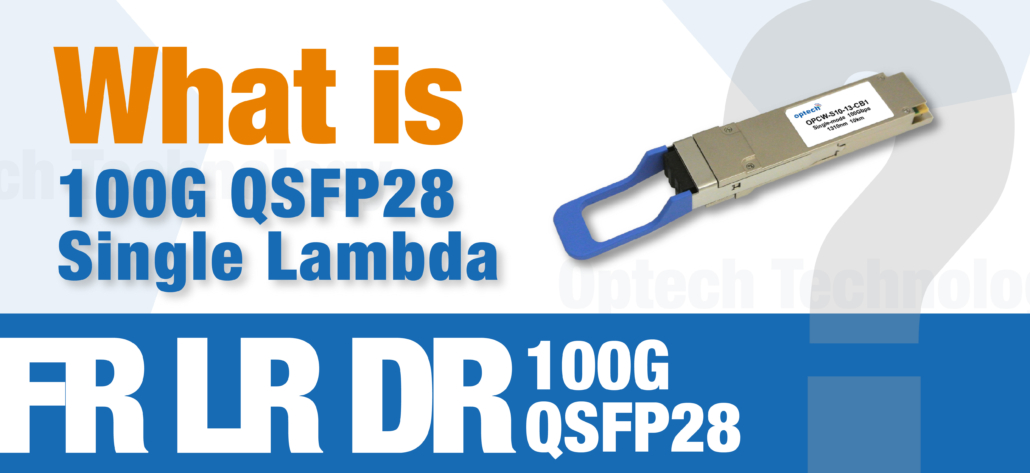 ---
What is Single Lambda 100G QSFP?
QSFP28 100G single lambda transceivers use only one lane that operate at speed of 100G to transport data with PAM4 (four-level pulse amplitude modulation).
This new technology is a big improvement from the one used in traditional 100G QSFP28 transceivers. Indeed, the design of these transceivers are more complex, by transmitting data over four parallel lanes that operate at speed of 25G each and modulated with NRZ (Non-Return to Zero).
WHAT IS THE ADVANTAGE OF 100G SINGLE LAMBDA?
By transporting the data on only one lane with one wavelength with PAM4, instead of four parallel lanes with four different wavelengths with NRZ, the 100G single lambda technology has a simpler design. The number of optical components is significantly reduced, lowering the cost of manufacturing.
The 100G Lambda MSA has recognized that a single optical lane of 100G can be at least 40% lower cost than four lanes of 25G.
The 100G Single Lambda technology is very attractive because it reduces the cost of upgrading your infrastructure to 100G but it also open new possibilities for the future. Indeed, this technology is used to break a 400G signal into a 4 x 100G instead of 8 x 50G with NZR. The single lane 100G also cut down the cost of manufacturing 400G QSFP-DD optical transceivers.
APPLICATIONS OF 100G SINGLE LAMBDA TRANSCEIVERS
Data Center Interconnect

100G Ethernet

Enterprise networking

5G
100G QSFP28 SINGLE LAMBDA TRANSCEIVERS
For more information on 100G transceivers, click here or contact us at sales@optech.com.tw